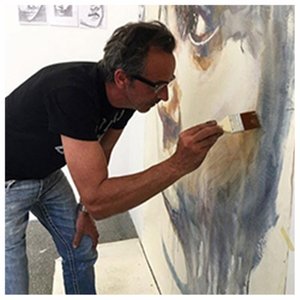 Luis Bivar began painting at the age of 16, and has explored various techniques in his work, primarily painting, drawing, mixed media, and more recently sculpture.
Some of the most iconic works in art history—Mona Lisa, Girl with a Pearl Earring, and Manet's Olympia, to name a few—have proven the compelling potential of facial expressions in art. The range of human emotions communicated by the face is the subject of "Face It," the latest exhibition from Portuguese artist Luis Bivar, at Asbury Park, New Jersey, at gallery Exhibit No. 9.
In his large-scale mixed media works, Bivar focuses on the female face, filling his canvases with beautiful, model-like visages captured in different expressions.
"As an observer, every woman tells a tale; a fantasy that may be reinvented by the spectator that does not necessarily meet my personal experiences," Bivar has
said of his muses. "Emotions are rare these days in the cold grey era we are living and
this collection is a call to face your emotions now."
In the work, Bivar creates hyperrealistic portraits in a pared-down, primary color palette that recalls the work of Pop Art legend Roy Lichtenstein. And like Lichtenstein, this Contemporary Pop artist incorporates comic book iconography into his work—quite literally. Bivar uses collages of Marvel comics to add depth and interest—entire universes of imagery and meaning—to his work, intentionally allowing the artist's hand to show in false starts and imperfections. In this series he consciously covers only the eyes and mouths, in his words: "two important elements that define the human expression."